Building the Paper Tcîmânens
Tcîmânens ( dim. Algonquian) little canoe.
Pictorial Overview 2
Installing the stems. The inwale passes over the shoulders
on the manboard and lashes near the top of the stem piece.
The outwale continues rising upward to the upper most part of
the stem where it will be lashed in place. The two end thwarts
are ready to be lashed in place.
The area near the stems where the paper fractured during bending it up needs repair. It turns out that wetting the paper makes it very pliable. Had I known that I could have wetting the paper during staking it up much like is done with birch bark. To correct the problem I wetted the paper and using weighs and wood strapping reformed the hull in that area. Imperfections where filled with a glue and sawdust filler then the chines were strengthen with fiberglass and epoxy.
Final lashing at outwale ends will be during lashing with the gunwale cap later. The paper around the stem pieces has been trimmed and the paper has been lashed onto the stems.
At this stage it is starting to look like a canoe! Well it turned
out to be 124 inches ( 10' 4" ) in length, it's 28" max. at the
gunwales,depth is 11 1/4", and currently weighs 22 lbs.
The basswood sheathing ready to be added. The sheathing is joined edge to edge with no overlap. Each end is overlapped similar to a scarf joint.
Now the ribs can be added. Ash ribs are being used do to the difficulty of bending basswood.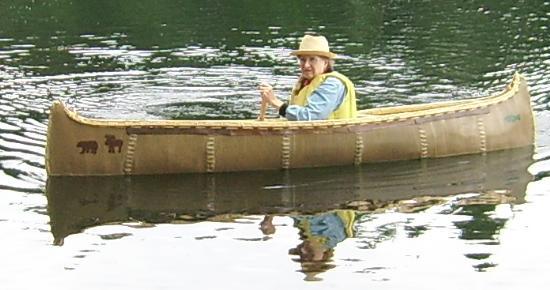 I finished the hull by coating it with two layers of marine varnish plus on the bottom
I added fiberglass at each stem for about 2 feet. Over the glass I added 3 coats of epoxy
with graphite power up to the water line. On this I painted the hull with dark brown paint
over which I panted a coat of light brown/tan paint. I let the dark brown paint show through
the tan in some places to make the hull look more like natural birch bark.

The gores are sealed using pine resin.

It's time to work on a seat and paddle for the canoe.
Previous page................ First page................... Next page...................
---
pcpage13 Sept. 7, 2008 Bob Bear's Paddling Club
---